Below you will find the most popular mat choices. We carry a large variety of Acid Free Paper Mats, Color Core Mats, Linen and Suede Mats. If you do not see the color you are looking for please contact us and we will find the color that will match your request. To contact us Click Here or Submit a Quote Request with your desired colors and we will contact you directly with available options.
Find the Perfect Mat-ch!
Matboard serves an important function in protecting artwork. Crescent offers matboard in a variety of quality levels, which are conveniently classified as good, better and best. Get to know the differences of our quality levels, and you'll find the Crescent matboard that is perfect for your artwork and desired level of art preservation.
RagMat (Top conservation friendly option)
Museum board is the best conservation friendly option, specifically designed for the display and protection of artwork. The long flat fibers of natural cotton pulp intertwine, creating a strong, resilient matboard, more durable than bleached chemical wood pulp fiber. Less processing of pure cotton cellulose results in a stronger product and less damage to the environment.
Check out their selection for available designs below:
Alpha Cellulose (Mid-level conservation)
Crescent's Medium quality matboard brands are constructed of alpha-cellulose, or wood pulp that has both acid and lignin removed.
Available in an extensive range of colors, textures, fabrics and color options, our alpha-cellulose matboards provide the minimum levels of conservation framing and are recommended for fine art prints, limited edition prints, valuable documents and original photography
Check out their selection for available designs below:

Acid Free (base level conservation)
All Crescent matboards in this category are constructed of wood pulp that is treated with calcium carbonate to slow the effects of acid and lignin. These are also known as decorative matboards.
You'll find a variety of surface colors, patterns and textures in this category, as well as options that include cream, white and black cores. Crescent's GOOD quality matboard is recommended for non-conservation framing of non-valuable art and general presentations.
Check out their selection for available designs below: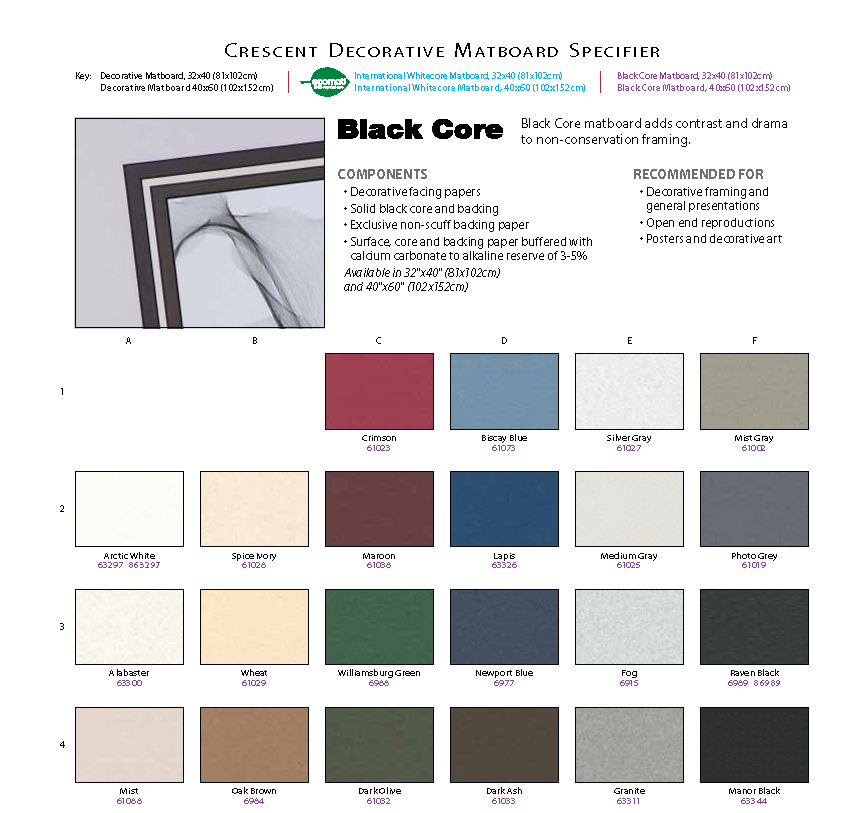 Matting Styles
While most ready-made frames have a typical, generic mat, understanding your mat board options can help you achieve the final look you're envisioning. Here are four popular matboard styles that will each give your framed art a unique look and feel.
Single Mat
A single mat is the most common mat board style. This style gives all types of artwork a clean and simple look. It also gives your eyes a place to rest within the framing space.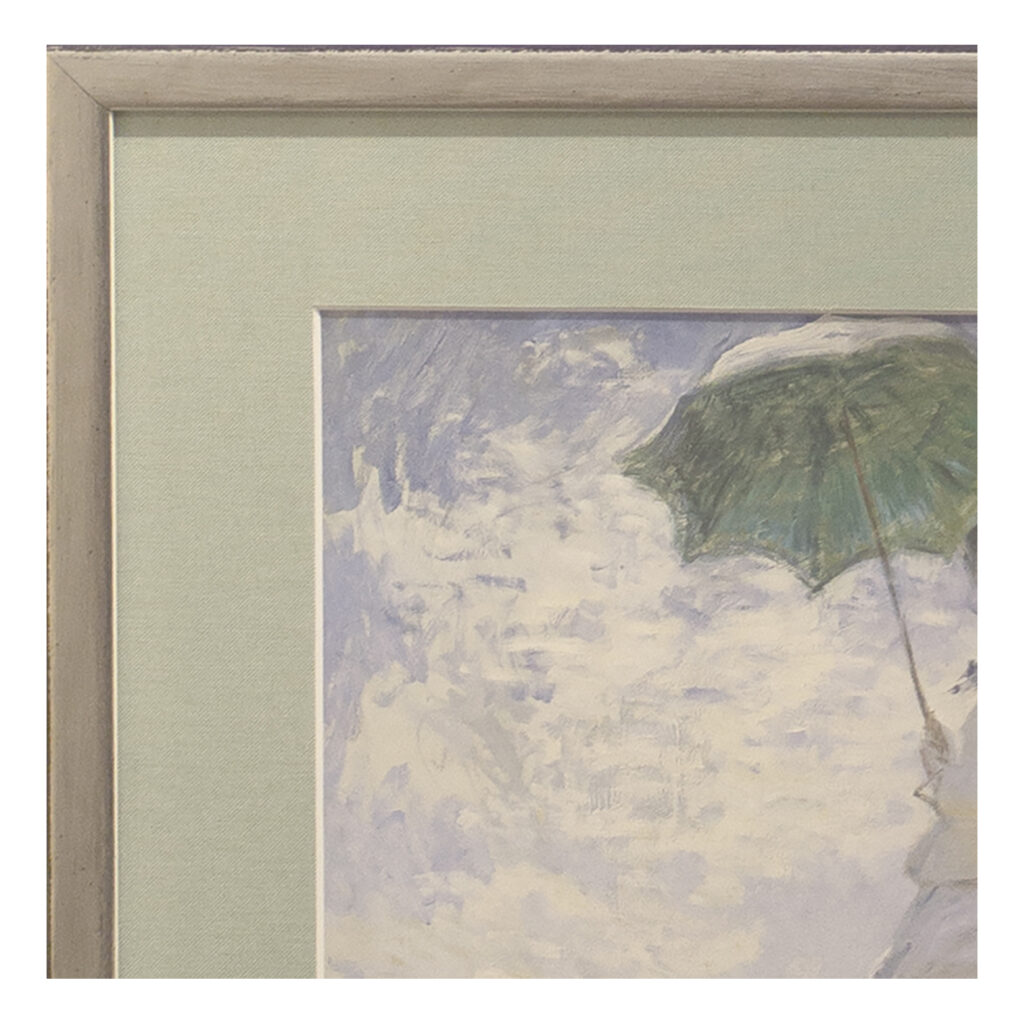 Double Mat
A double mat consists of two mat boards stacked together. The top mat has a larger window, which allows a small border of the bottom mat, called the reveal, to be shown. Double mats create physical and visual depth.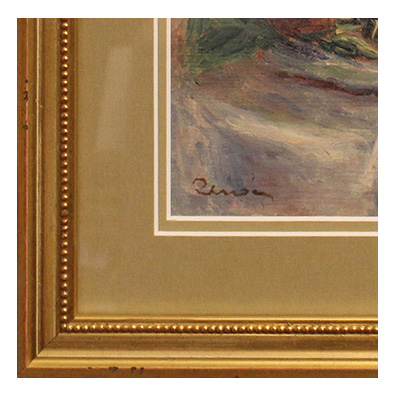 Floated Mat
We call this method of framing "floating" for two reasons. First, we attach your art to an acid-free foam core lift, hidden behind the work but mounted to a supporting white mat. Second, we use a spacer to create space between the plexiglass and the surface of your work. The result is a look that keeps your art "floated" in the center of the frame. This look is great showing the textural quality of worn edges, or just to show the full length of your print or artwork from edge to edge.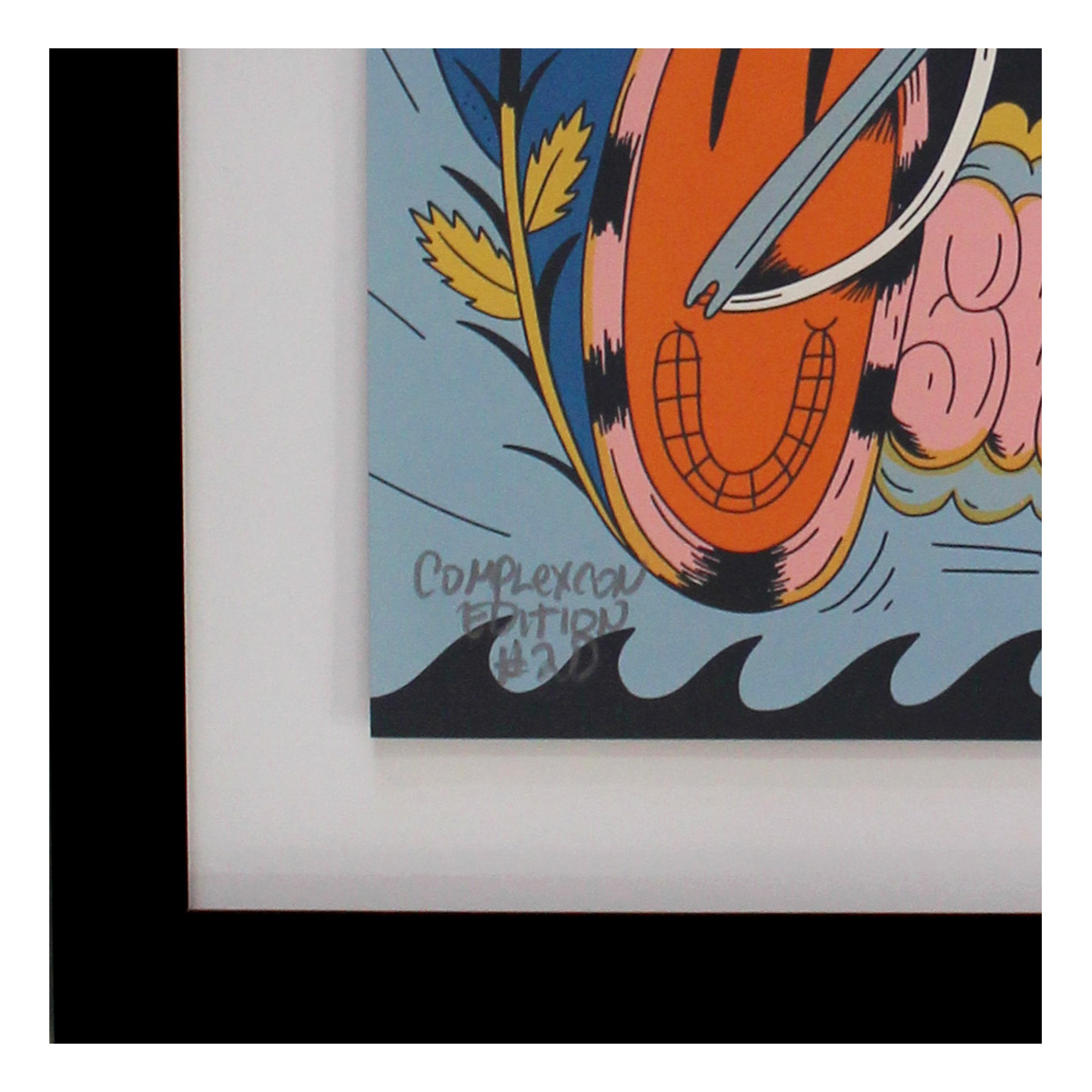 Multiple Openings
Contains more than one window opening. Individual openings of identical or variable sizes and shapes are cut in one mat to display a number of items. Multiple opening mats are used for photo collage projects, trading cards.